Look As Young As You Feel!
Aging skin and wrinkles result from a combination of many factors. It's not just about cellular changes, collagen depletion, hormone loss, or damage caused by free radicals. Wrinkles develop from a combination of many things and how the skin wrinkles is a complex process.
Those vertical lines that appear between your brows result from muscle contractions.
When you concentrate, squint, or frown, the muscles between your brows contract, causing your skin to furrow and fold. After years of frequent contraction, those wrinkles can linger even after the muscles are at rest.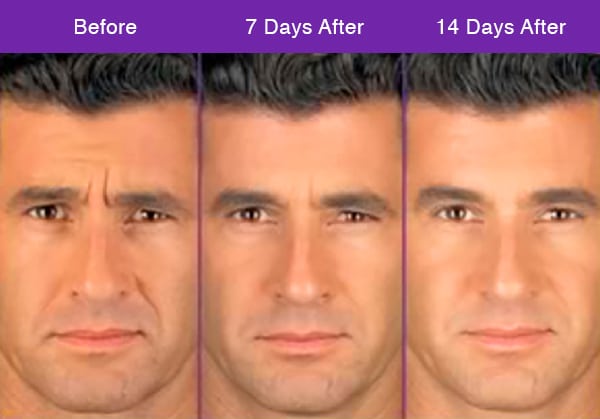 What Are The Benefits of Botox®?
Botox® is FDA-approved and has a 30-year track record for both safety and effectiveness.
There is minimal "downtime"; most patients return to their usual activities immediately following the Botox® treatment.
The procedure is non-invasive.
A Botox® treatment can be quickly performed in our office on your lunch break.
Studies have shown Botox® to be effective in reducing frown lines from 70%-80%.
Injecting Botox® into contracted forehead muscles can smooth and straighten the skin, and give you a more youthful appearance.
Botox® Cosmetic weakens the muscles responsible for squinting and crinkling of the eye area. The treatment effectively reduces or eliminates crow's feet and other wrinkles around the eyes.
Because Botox® treatments are so effective in improving moderate to severe frown lines between the brows, many patients have them as an alternative to a brow lift.
Restore Confidence And Youth With Botox®
If you feel that crowsfeet around your eyes, frown lines, facial creases, or those pesky lines on your upper lip are making you look older and not the real you…NOW you can look as good as you feel.
Give the gift of youthfulness to yourself! Botox® will help restore your confidence and your youthful appearance.
In fact researchers found that people treated with Botox® received higher scores in the areas of attractiveness, confidence, job and dating success, and generally making you look friendlier.
So, if you're not happy, with those lines, you do have options.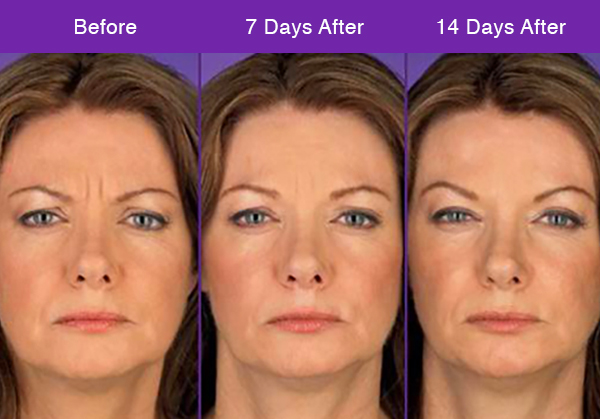 To schedule your COMPLIMNETARY COSMETIC CONSULTATION click here now, or call us at:
Brighton Office: 617.782.9250
Newton Office: 617.332.8146
Other Uses For Botox® Treatment
Although Botox® injections are most well known as a cosmetic procedure for the reduction of facial wrinkles, it is also used in the treatment of several medical conditions.
It's also been proven effective at relaxing the muscles in the jaw that cause some of the common symptoms of Bruxism, clenching and grinding of the teeth. The procedure typically provides relief within a week.
Read what our patients are saying!
"Dr Bidabadi is the goddess of dentistry. I have been been going to see her since 1990. She is meticulous, and has the deepest concern for your overall health. She takes the time to sit down and listen to your dental problems. She has the nicest, thorough and knowledgeable hygienists."
Amazing Results After Botox®!
What is Botox® Made Of?
Botox Cosmetic is an injectable treatment formulated from botulinum toxin type A. Botulinum toxin is a neuromodulator, meaning that it modulates the action between nerves and muscles.
Is Botox Safe?
Botox has been proven safe and effective through numerous clinical studies and case reviews. The base ingredient, botulinum toxin type A, has been used in medicine for many years. In fact, it was through therapeutic use in patients with muscular disorders that the cosmetic benefits of this ingredient were discovered.
Since Botox gained FDA approval, very few reports of adverse effects have been made. This may be because cosmetic doses are much lower than therapeutic doses. While there is a slight chance of allergic reaction to this drug, the side effects associated with it are usually limited to the following:
Slight redness and swelling at injection sites
Mild headache or flu-like symptoms
Minor bruising
Muscle weakness in the treatment area
Drooping eyelid or corner of the mouth, depending on the treated area
How Does Botox Work to Reduce Wrinkles?
Botox, by introducing a minute amount of botulinum toxin into a muscle, prevents the signals that are necessary for that muscle to contract. This makes Botox ideal for the treatment of dynamic wrinkles that are caused by facial movements like frowning or squinting. By relaxing the muscle, this injectable allows the overlying skin to rest in its naturally smooth state.
Does Botox Treatment Hurt?
When you receive Botox injections, we use a very tiny needle. The treatment is administered to the most superficial muscles, so you won't feel any aching. You won't feel much of anything. The needle might sting or pinch for just a moment, but this sensation passes so quickly it may barely be noticed. If you're concerned about your Botox injections being uncomfortable, let us know! We can work with you to make your treatment as pleasant as possible.
How Quickly Will I See Results from Botox Injections?
Botox begins to work the moment it enters the muscle tissue. However, it can take some time for the toxin to fully absorb into the target area. Then, it can take a few days for the muscle to relax into its smoother state once the product has been applied. We suggest waiting and watching as your results build up over about seven days. In rare cases, it can take up to two weeks for the effects of Botox to be fully appreciated.
How Many Treatments Do I Need?
Only one round of Botox is needed to achieve satisfying results. What is more relevant to your results is the number of units of Botox you receive. Your provider will carefully dose the number of units based on the treatment area and the severity of the lines or creases you'd like to resolve. As a baseline, we generally use about 20 units of Botox for frown lines and forehead wrinkles. This can range from 10 to 30. When used to treat the jaw and lessen the effects of bruxism, we may use up to 40 units in total. Your treatment plan will be unique to your needs and expectations.
How Long Do Botox Results Last?
The cosmetic effects of Botox injections can start to diminish as soon as a few months after treatment. Conversely, they can last up to six months. As your body metabolizes the botulinum toxin, you may start to notice the gradual return of the lines we've treated. You may repeat this cosmetic injectable treatment as often as every three months if you wish to prevent lines from returning.