Let us help you learn more about porcelain veneers and how they may improve your appearance.
Thin porcelain shells custom designed to fit over your teeth, veneers are highly resistant to stains and yield lasting results for years to come.
Who Should Consider Porcelain Veneers?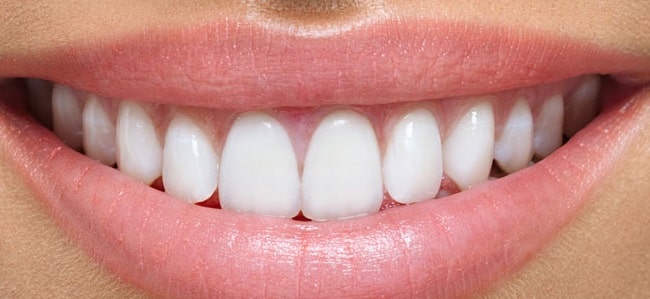 Patients with excessive tooth damage, especially damage that may impact how they feel when interacting with others, may want to consider porcelain veneer treatment. Specifically, porcelain veneers are ideal for correcting discoloration, cracks, chips and even gaps or crooked teeth.
What is the Process of Getting Porcelain Veneers?
Porcelain veneers, which are thin pieces of porcelain dental material, cover-up your tooth imperfections and mask any visible damage. Dr. Bidabadi will carefully evaluate your individual needs and the peculiarities of the tooth/teeth in question and discuss your overall dental goals before developing a treatment plan that works for you. She may recommend a full set of veneers for your top and bottom teeth or may recommend veneers to be targeted to one specific area.
If porcelain veneers are determined to be the best treatment for your teeth, she will make a mold of your mouth and have custom porcelain veneers made just for you. Since veneers are custom made to each patient, this process may take several weeks.
Each veneer will be carefully applied to the surface of your tooth. Your veneers will have the same look and feel as natural teeth and will greatly improve their appearance.
What Are The Advantages of Porcelain Veneers?
Porcelain veneers provide a very natural looking, but improved appearance to your teeth. Additionally, porcelain veneers are very easily tolerated by your gum tissues.
Veneers are resistant to many stains and can be made as white as the patient desires for optimal results. If a patient is not receiving a veneer for each tooth, it may be advisable to undergo professional teeth whitening prior to the application of veneers to guarantee the most natural looking results.
Finally, veneers are quite durable and resist biting pressure very well.
---
Patient Testimonial for Soft-Touch Dentistry
Amazing customer service and dental care.
"I have been a patient for over 15 years and have always had excellent experiences. I have had a lot of dental work and Dr. Bidabadi pays close attention to providing a pain free experience that fits into my busy schedule." Elizabeth S.
What Are The Possible Risks of Porcelain Veneers?
Just like many restorative dental procedures, the application of porcelain veneers does require the removal of some healthy tooth structure. However, porcelain veneers are a much more conservative approach than other major repair options for damaged teeth. It's also important to note that porcelain veneers are not permanent and may have to be replaced over time.
How Long Do Porcelain Veneers Last?
With proper care, most porcelain veneers will last between 10-15 years, however, it varies between individuals.
Schedule a Consultation Today!
To learn more about Porcelain Veneers, schedule a Free Consultation with Soft-Touch Dentistry by filling out our contact form here. We serve Allston and Newton, MA and the surrounding areas.